Belfast and Ballymena pilot areas in housing initiative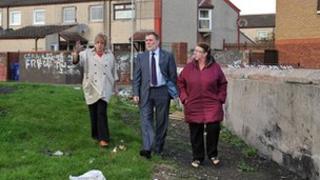 Six pilot areas have been selected as part of a housing regeneration programme in Northern Ireland.
The new initiative aims to use housing intervention as one of the main catalysts for local regeneration.
Five of the areas are in Belfast, and the sixth is in Ballymena, County Antrim.
Housing Minister Nelson McCausland said the initiative was "a more radical and strategic approach" to revitalise communities.
The six chosen areas are Lower Oldpark/Hillview, Divis/Albert Street, Tiger's Bay/Mountcollyer, Shankill/Brown Square and Andersonstown, all in Belfast, and Doury Road in Ballymena.
Work in the areas will involve the Department for Social Development (DSD), the Social Security Agency, the Northern Ireland Housing Executive, housing associations, local communities and other statutory and voluntary agencies.
The development is part of DSD's Facing the Future - Housing Strategy for Northern Ireland.
Mr McCausland said: "These six pilot areas meet the criteria for selection as detailed in the housing strategy.
"All are already designated areas of deprivation but, critically, have good potential for recovery with available land or properties that can be refurbished.
Blighted
"Regeneration forums will now be set up in each of the areas to take work forward and develop plans with tailor-made economic, physical and social interventions to meet community needs.
"Once all necessary approvals and funding have been secured, we will start to see work take place on the ground."
He added: "While much has been done to support disadvantaged communities some initiatives have not really worked in the way that they should have.
"There are still areas blighted by dereliction and decay, with empty houses that are boarded up and land that lies derelict and undeveloped.
"These problems drag a community down, becoming magnets for anti-social behaviour and dumping.
"They blight the lives of the residents, creating despair and they are a lost opportunity.
"In the past there was a tendency to simply bulldoze the empty properties, clear the site and walk away. But a bulldozer and some grass seed is simply not good enough. It leaves communities with the heart torn out of them. We need a more radical approach that will deliver results."