'Final' Seamus Heaney poem published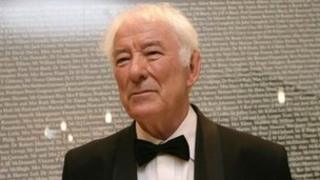 One of the last poems written by County Londonderry-born Nobel Laureate Seamus Heaney has been published in the Guardian and Irish Times newspapers.
The Guardian describes In a Field as a "heartbreakingly prescient" reflection on the first world war and says it may have been his final poem.
It recreates a conversation about the war with a man who is ploughing a field with horses
Heaney was invited by the poet laureate, Carol Ann Duffy, to contribute to a memorial anthology marking the centenary of the outbreak of the first world war.
She asked poets to respond to poetry, letters and diary entries from the time.
Heaney chose Edward Thomas's poem, As The Team's Head Brass, which he wrote in 1916 shortly before he asked to be posted to the front - a decision that led to his death at Arras the following year.
Heaney, who died in August aged 74, completed the poem in June.
Ms Duffy told the Guardian: "Seamus's poem is typically beautiful, placed and weighted at the centre of the poetic landscape which he made so familiar to us all, and above all, heartbreakingly prescient."
'Lyrical beauty'
Heaney was awarded the Nobel Prize for Literature in 1995 "for works of lyrical beauty and ethical depth, which exalt everyday miracles and the living past".
Over his long career he was awarded numerous prizes and received many honours for his work.
Among those who attended his funeral in Dublin in September were Irish Prime Minister Enda Kenny and Irish President Michael D Higgins, U2 singer Bono and actor Stephen Rea.
Northern Ireland's Deputy First Minister Martin McGuinness, Sinn Féin leader Gerry Adams and former SDLP leader John Hume were among those who attended the burial in Heaney's home village of Bellaghy.