Bomb alerts in Lurgan and Derry cause disruption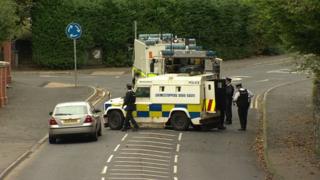 Security alerts in County Armagh and Londonderry have caused a significant amount of disruption.
Two suspicious objects were found in Lake Street, Lurgan, close to the railway line, affecting train services through the town.
They were both later declared elaborate hoaxes.
Meanwhile, homes were evacuated in Derry due to separate alerts in the city. Both of them were also hoaxes.
A controlled explosion was carried out at Mimosa Court. There was another alert in the vicinity of Strabane Old Road.
DUP deputy mayor of Derry Gary Middleton said people were annoyed that they had been put of their homes.
"We have been told that a device has been left at an elderly person's home so the motivation for this is very, very unclear," he said.
Sinn Féin councillor Bridget Meehan said: "Whoever was behind this incident should explain to local residents what they have achieved by forcing families from their homes?"
SDLP MLA Pat Ramsey said "many vulnerable residents" had been forced from their homes.
Due to the alert in Lurgan, bus substitutions have been operating between Lisburn and Portadown and between Belfast Central and Newry for the Dublin Enterprise services.
DUP MP David Simpson said continuing alerts could have a wider effect.
"If they keep doing it they are going to ruin the economy of Northern Ireland," he said.
"We've had the G8, we've had the economic conference, we are trying to get inward investment and they will try and destroy that. But people are more resilient than that."