CBI 'frustrated' over lack of NI infrastructure projects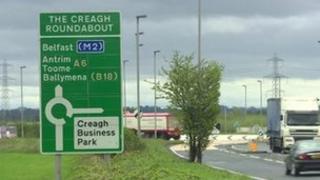 The Northern Ireland Executive has been challenged to reform how it delivers key infrastructure projects such as roads and energy links as a matter of urgency.
CBI Northern Ireland said it was "incredibly frustrated at the lack of an appropriate pipeline of works" that would attract investment and new jobs.
It has published a new report, calling for several projects to be prioritised.
The projects include a second north-south electricity inter-connector.
CBI Northern Ireland believes a new Stormont agency should be created and charged with the procurement and delivery of major projects.
The agency would report directly to the finance minister.
Other schemes the CBI wants action on are strategic roads like the York Street interchange in Belfast and the A6 road to Londonderry.
CBI vice-chair Adrian Eakin said: "Relatively simple steps can make our system more fit for purpose and project a view to investors that Northern Ireland is a place which puts delivery of infrastructure top of its agenda.
"Northern Ireland cannot afford to be behind the curve."
The organisation said the Northern Ireland Executive should explore all avenues of funding such as the European Investment Bank.
Its ideas are contained in its new report called Infrastructure - Investing for our Future.