Natasha McShane: Jury retires to consider verdict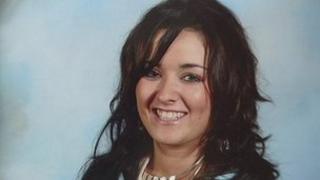 The jury in the trial of a man accused of attempting to murder County Armagh student Natasha McShane in Chicago has retired to consider its verdict.
Ms McShane was left brain-damaged after she and her friend, Stacy Jurich, were attacked and robbed in Chicago's Bucktown district on 23 April, 2010.
Heriberto Viarmontes, 34, denies any involvement in the attack.
The jury is considering 25 charges, including two of attempted murder, aggravated battery and armed robbery.
They retired on Thursday following closing arguments by the prosecution and defence, after hearing five days of evidence and testimony.
"At the beginning of this trial the defence told you this is an identification case and make sure we get the right guy," a prosecution lawyer told the jury.
"It is and we did."
Referring to prison phone calls made by Mr Viramontes, where it appears he admits attacking the two women, the prosecution lawyer said: "That call and the four other calls buried that guy."
He added: "Behold Heriberto Viramontes, every parent's nightmare.
"Natasha's skull was fractured and our skulls are built to take a beating. He did not walk up and give them a little tap."
The prosecutor told the jury: "He took Natasha McShane's future...he burdened them (the McShane family) with the life task of caring for their daughter."
But defence lawyers argued their client is innocent and someone entirely different is responsible for creeping up behind the two women on a Chicago street and smashing a baseball bat across their heads.
"This was a tragedy for the McShane family and the daughter they sent to Chicago who will never be the same again," a public defender told the jury.
She added: "This is a tragedy for Heriberto Viramontes and for his family,,,a son, a father, a nephew is being charged with something he didn't do."
The defence lawyer said: "We do not know who did this. What we do know - it was not Mr Viramontes.
"We do know that on April 23, 2010, in the early hours of the morning Stacy Jurich and Natasha McShane walked northbound on Damen.
"There was someone walking southbound and that person passed them. That was when Stacy Jurich felt a pain in the back of her head. That person struck Natasha McShane."
"That person was a black male", the defence lawyer said, adding that Ms Jurich had initially said the pair were attacked by a black man, but later said he was possibly a Hispanic.
The defence said the telephone calls from the jail where their client allegedly admitted the attack, were excerpts taken out of context.
They also questioned the evidence given by Mr Viramontes' one-time co-defendant Marcy Cruz, who testified against him during the trial.
The defence lawyer said Cruz had reason to be untruthful during her testimony as she will be out of prison in 16 years, against facing a 120-year sentence on the attempted murder charges.
The defence also went through the forensic evidence, urging the jury to disregard the weak DNA evidence.
They also said the fingerprint evidence - a distorted print on a bag containing Ms McShane's passport which was matched to Mr Viramontes - was flawed.
The defence lawyer said that whoever had attacked the women struck them once each and fled, adding there was no intent to kill.