Raymond White rejects claims of 'widespread RUC collusion' in loyalist murders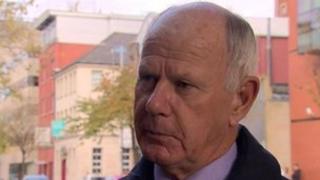 A former senior officer of the Royal Ulster Constabulary has said he is ashamed that some members of the force were involved in loyalist killings.
However, Raymond White has rejected claims in a new book that there was widespread collusion between members of the security forces and paramilitaries.
He said the RUC tried to stop murders.
The book, by Anne Cadwallader, claims some members of the RUC and UDR were part of a loyalist gang that killed 120 people in NI between 1972 and 1976.
Allegations of security force collusion in Troubles-related murders is not new.
But the new publication, Lethal Allies - British Collusion in Ireland, claims there is evidence of collusion on a massive scale between RUC officers and loyalist paramilitaries.
Indisputable evidence
It includes extracts from reports by the Historical Enquiries Team (HET) - the special police team set up in 2005 to re-investigate thousands of Troubles-related murders.
Those extracts said there is indisputable evidence of collusion.
But Mr White, a former RUC assistant chief constable and senior RUC Special Branch officer, told the BBC the force did its best to catch anyone involved in murder.
"There is no-one more ashamed, as myself and my colleagues, that in actual fact these people were serving amongst other officers who had taken the oath of allegiance to uphold the rule of law, and this small cadre of individuals were actually there breaking the law," Mr White said.
However, he added: "I worked in the mid-Ulster area in the 1970s and never, at any shape or time, did I see anything that indicated that anybody condoned what was going on.
"We were working day and night to make these people amenable, so for allegations to say that this ran to the top of the organisation - I'd like to see the evidence that actually supports that.
'Challenges'
"If people have it, put it on the table by all means. We all need to know what happened in those occasions, if that evidence is there," the former RUC officer told the BBC.
Danny Kennedy, an Ulster Unionist MLA for Newry and Armagh, also questioned the claims made in Ms Cadwallader's book.
"I don't believe that there was institutionalised and systemic collusion operated by either ordinary members of the RUC, or the security forces, or the UDR, or indeed senior command of the RUC," Mr Kennedy said.
"Allegation is one thing, evidence is another," the UUP representative added.
"I've grown up in south Armagh, I've lived in south Armagh all my life. I have known the experience of living there as a member of the Protestant and unionist community when staying alive, at one stage, was actually a challenge.
Complaints
"I also then, am aware of the challenges that were faced by the security forces in the area that they served and I know of the many, many fine police officers and the many people who served in the UDR and in other regiments who were determined, out of public service, out of public duty, to play their part in defeating terrorism from wherever it came."
Mr Kennedy said the publication "fuels a narrative of the Troubles that republicans, particularly, demand we should accept".
Anne Cadwallader is a former journalist and researcher with the Pat Finucane Centre.
More than 20 families have now lodged complaints about the RUC investigations into the killings with the Police Ombudsman.