Drugs accused 'given dissident republican death threat'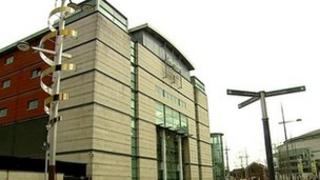 Paramilitaries warned one of two alleged drug dealers he had 48 hours to leave his home or be executed, a court has heard.
Dissident republicans may also target his co-accused as part of further attacks they plan to carry out in Belfast, according to police.
Details of the threats emerged as a judge maintained a temporary ban on identifying either defendant.
The two men are accused of possessing cannabis with intent to supply.
The alleged offences stretch back to an incident in Belfast in 2011.
Earlier this week an interim order was imposed to stop publication of any details that could identify either man.
A defence lawyer based his fears for their safety on media reports and from speaking to police.
At a further hearing before Belfast Magistrates' Court on Thursday details of a threat found on a republican website were submitted.
District Judge Fiona Bagnall was also shown a media report earlier this month of masked and armed men going into a bar in the city, reading out a statement, naming a number of people and warning them to leave the area.
'48 hours to leave'
During the hearing a police officer involved in the case confirmed attempts have been made to contact one of the defendants and alert him to a threat against him.
The message the PSNI intend to give him reads: "A report to police states that a threat to (the accused) has been issued by paramilitaries.
"The threat states that he had 48 hours to leave or would be executed."
With the threat against the suspect classed as credible, police intend to advise him to review his own security.
A separate message was served on his co-accused on 11 October, the court heard.
It stated: "Dissident republicans are intending to carry out further attacks against drug dealers in the Belfast area. These may include (the defendant)."
Judge Bagnall said her preliminary view is that both men are facing an immediate risk to their lives.
But she added: "They are obviously already known to those who wish to cause harm to them. What assistance would reporting restrictions have?"
Rather than a blanket press ban, one possible solution could be to stop their names from appearing on court lists, she suggested.
Lawyers for the two men are to take further instructions before the case is heard again on Monday.