Nama chairman 'surprised' by Peter Robinson criticism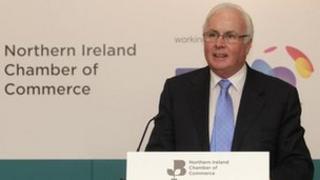 Language used by First Minister Peter Robinson about the Irish government's National Asset Management Agency was "surprising", its chairman has said.
Last month, Mr Robinson said Nama was "inhibiting" the economy by not selling property quickly enough.
Frank Daly said Nama would not attempt to administer "shock therapy" to Northern Ireland's property market by flooding it with supply.
Mr Daly said the agency would take a "very measured approach".
Nama controls around £1bn of property loans originally made by Dublin-based banks to Northern Ireland customers.
New projects
Mr Daly said that as the Northern Ireland economy recovered, the agency would "look to increase transactions where that is appropriate".
He said the only beneficiaries of "market flooding" would be short-term investors "hoping to generate a quick return and exit".
In a speech delivered to the Northern Ireland Chamber of Commerce in Belfast, Mr Daly also called on developers and investors who have Nama loans to come forward with proposals for new projects.
"If they have projects that can deliver a strong commercial return then we are interested in funding them," he said.
Mr Robinson last month described Nama as part of "a triple whammy of obstacles to a real take-off in the economy".
He said the other obstacles were Northern Ireland's marginalisation in terms of banking and the drag on assets caught up by the Presbyterian Mutual Society unwinding process.
Responding to Mr Robinson's remarks, Mr Daly told the BBC on Thursday: "I suppose it surprised me a little bit but he was talking generally about the economy, and we always listen to what the first minister says.
"In general terms, I don't think it's at odds with what we are doing - as the market picks up and we think the market can absorb more assets then we will put them on the market, but we will not put property on the market at firesale prices.
"I don't think there's any real contradiction between what we are doing and what Peter Robinson is suggesting we do."