Less than half of NI's waste sent to landfill sites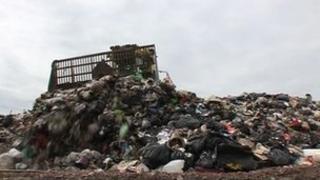 Less than half of Northern Ireland's waste is now being sent to landfill sites, according to figures released by the department of environment.
The figures cover the period from April to June and show just under 49% of rubbish is buried.
All councils are set targets for the amount of waste that goes into the ground, with the figure reducing every year.
There are three groups that oversee the management of waste across Northern Ireland.
Of those, the one that takes in Belfast and parts of counties Antrim and Down sent the lowest amount of rubbish to landfill while the one dealing with counties Armagh, Fermanagh and part of County Down sent the most.
"We're still not up there with the best that we can do in the UK and we really need to set our sights a little bit higher," said Sue Christie from the campaign group Northern Ireland Environment Link, which has welcomed the findings.
"A lot of work needs to be done on preventing waste in the first place, especially around food where so much of the food which is grown is actually going to waste and going to landfill."
More than 240,500 tonnes of waste were collected during the three month period, an increase of 0.8%.
Of that, 48.8% was sent to landfill while more than 42% was recycled or composted, an increase on the same period last year. The other 9% is burned for energy generation.
The council target for 2012/2013 was 320,000 tonnes - that falls to under 306,000 tonnes in the current year 2013/2014.