Exploris: Tourism department not asked for rescue cash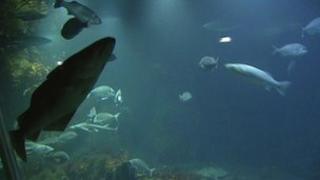 Ards Borough Council has asked three Stormont departments for money to save Exploris aquarium - but not the department that deals with tourism.
Sinn Féin claimed the decision not to contact the Department of Enterprise, Trade and Investment was politically-motivated.
The DETI minister is the DUP's Arlene Foster.
The three departments contacted by Ards Council, which is unionist controlled, all have SDLP or Sinn Féin ministers.
They are the Department of Environment, Department of Culture Arts and Leisure and the Department of Education.
Sinn Féin MLA Phil Flanagan said: "This raises serious questions about whether there is a genuine commitment within the unionist councillors of Ards borough to maintain this important asset.
"Talking to local people, there certainly is a perception in the Portaferry area that the DUP-dominated council is attempting to close Exploris because of its location in a nationalist part of a unionist council area."
Portaferry-based Exploris is running at an annual deficit of around £600,000. The council says it needs extra funding before the end of November otherwise the facility will close early next year.
Last month, Ulster Unionist councillor Philip Smith, deputy mayor of Ards, insisted the council was doing all it could to keep Exploris open.
He said: "While there has never been any indication of a subvention for Exploris from central government, there does now appear to be a possibility that funding could be made available.
"However, we do have to emphasise that the decision to close still stands if external funding is not forthcoming."
There has been no comment so far from the DUP in the wake of Phil Flanagan's remarks.
Exploris employs 18 staff and has been operating since 1986.
It is currently home to 12 seals and more than 3,000 fish.