G8 table finds new home with prime minister in Downing Street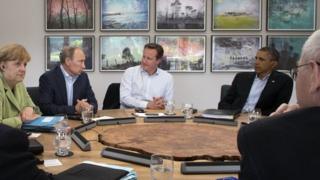 The negotiating table used by some of the world's most powerful leaders at the G8 summit in County Fermanagh has been given a new home in Downing Street.
The round elm table was made by County Armagh firm Terry Design with locally sourced wood.
During June's summit at the Lough Erne resort it was used by global leaders like US President Barack Obama, German Chancellor Angela Merkel and the Russian President Vladimir Putin.
The table was specially commissioned by the prime minister and David Cameron took a personal role in the design.
Recently the table has been shipped to London where it now has pride of place in the Thatcher room in Number 10 Downing Street.
Inside his official residence, Mr Cameron gave the BBC an exclusive look at the new addition to the building.
'Memories and symbolism'
He said: "I thought it was a good idea to bring it back here because it has got lots of important memories and symbolism. It was a very good table for the G8 and I thought it would be good to have it in this room. So it is used now for meetings, conferences and all sorts of things."
Mr Cameron added: "Why I liked it so much was that I asked for a small table. What I wanted was to make sure that you didn't have translators and assistants and everything - you wanted really close conversation."
The table was built in the workshop of Terry Design, a manufacturing and design business based in Portadown.
Terry McDonagh, who founded the business with his brother Ross, said Mr Cameron was very specific about what he wanted.
Mr McDonagh said: "The prime minister wanted something intimate and as natural as possible so that was the theme - a smallish round table with a centrepiece almost like a hearth."
Mr Cameron was also keen about the way the table would look and feel and he had a say on the final stages of the design.
Mr McDonagh added: "The finishing was the key to it - getting the right finish against the sample that the prime minister had agreed."
A sample was also flown out to the prime minister when he was on a visit to Russia, and he agreed the finish.
Mr Cameron told the BBC that the £7,000 table was the subject of some discussion during the County Fermanagh summit.
"It was a talking point, it was definitely a talking point. They did like the fact that it was small. One or two of them said to me afterwards we had managed to create an intimate atmosphere," he said.
'Historic creation'
Mr Cameron said the compact size of the table helped the discussion and said it was beneficial because "people could put aside their briefing notes and spoke about what they really thought about it. But everyone admired the table and liked it".
Moving the table to London has delighted Mr McDonagh because he thought that after the G8 summit the table was going to be put into storage.
"The last time I saw it it was going through a window into one of the houses in Lough Erne in four pieces. I just hoped that it did not get thrown somewhere and never used," he said.
Staff in Portadown are thrilled that their historic creation, which includes a distinctive elm centrepiece, has been given a new lease of life. Terry McDonagh is very pleased and said those who worked on the table and built and finished it are happy that it is now being used in London.
The G8 summit may now be a memory, but a little piece of history that was built in County Armagh and showcased in County Fermanagh is now firmly part of the furniture in Number 10.