Excessive waiting times at Royal Victoria Hospital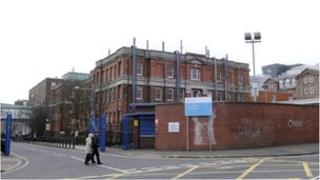 There were excessive waiting times on Tuesday for patients at the accident and emergency department of the Royal Victoria Hospital, the BBC understands.
Some patients who had been brought by ambulance had to wait for more than an hour in the ambulance triage area within the department.
It is not unusual for the Royal's A&E department to be extremely busy.
But according to some members of staff, including ambulance crews, the last couple of days have been like shifts at the height of the winter pressure.
It is understood approximately 20 patients had to wait more than 12 hours to be seen, while two vehicles sat with patients for up to two hours as there was no room inside the department.
At one stage a seriously ill man had to be treated in the ambulance triage area as the resuscitation bays were full.
A spokesperson for the Northern Ireland Ambulance Service (NIAS) confirmed the spike in demand and said the past 48 hours were 20% busier compared to the same days last year.
Of the 92 patients brought by ambulance to the A&E department on Tuesday, 73 ambulances were able to hand over their patient to staff within 30 minutes; a further 14 within 45 minutes, three within one hour and two between one and two hours.
A source within the ambulance service said while the figures showed a positive turnaround, on the ground it was "very frustrating" having to wait with patients for anything more than 20 minutes "when the radio is going off asking you to respond to another call".
'Extraordinary'
A NIAS spokesperson said there was a "notable improvement" in the delivery of patients to hospital.
"This improvement on turnaround times is the result of collaborative work between NIAS, Belfast HSC Trust and HSC Board, which has resulted in hospital ambulance liaison officers being placed in the emergency department to liaise effectively with staff and bed managers to improve the flow of patients throughout the hospital."
The pressure was also felt in the South Eastern Health Trust at the Ulster Hospital, whose director of hospital services, Seamus McGoran, described Monday as "extraordinary" and "an early signal that winter is coming".
He also said that Tuesday was much busier than usual.
"There was a huge increase in patients, way above the normal," he said.
"Staff did an incredible job meeting this demand."
Over the two-day period, there were 570 patients - 110 more than the daily average attendance.
The hospital also received 50% more ambulance cases than would normally be expected.
Mr McGoran said 50% more beds were required on Monday night, and as emergency ambulances bring seriously ill patients, this had a knock-on effect on Tuesday.