Controversial beauty pageant moved from Stormont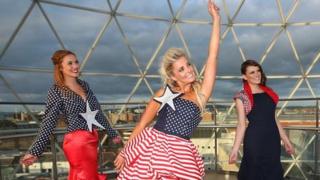 A beauty pageant has been moved from Stormont after controversy over rules about the size and age of the entrants.
The Miss Ulster competition was due to be held at Northern Ireland's seat of government on Saturday night.
However, the event was cancelled after two assembly members who had been sponsoring the event withdrew their support.
It is understood the contest will now be staged at Titanic Belfast.
The rules state that entrants must be aged between 18 and 24, be at least 5ft 7ins tall and must be between a size eight and a size 12.
Ulster Unionist MLA Jo-Anne Dobson had initially agreed to be a judge, but she said she withdrew when she found out "there were exclusions".
"I would not want to be associated with anything that excluded people. Stormont is all about inclusivity and I want everyone to have that opportunity," she told the Nolan show.
"I was a judge, not a contestant, so I wasn't aware of the rules. Obviously the rules need to be changed because everyone should have the opportunity."
She conceded that she had been a judge in the inaugural competition two years ago.
"We get asked to attend many events, and you don't scrutinise every single rule attached to every event - I didn't scrutinise the rules at a young farmers event two weeks ago," she said.
"I regret that now I know there were exclusions."
'Lovely Girls competition'
On Tuesday, the event had been criticised as "absolutely bizarre" by UUP leader Mike Nesbitt, but Ms Dobson said she had not been censured by him.
Event organiser Michelle McTernan has defended the event: "The positive opportunities created by Miss Ulster have been lost in an unwarranted furore that has now focused on the politicians of Northern Ireland.
"MLAs Jo-Anne Dobson and Dolores Kelly, who judged the last Miss Ulster and who ironically took part in a similar Radio Ulster debate defending the right to stage the competition at Stormont Parliament Buildings, have pulled out of their commitment to judge this year, due to recent controversy," she said.
"It's disappointing that the event has been driven away from Stormont by the very MLAs who supported it.
"But then politics can be a very strange game here as we all know."
DUP Enterprise Minister Arlene Foster also criticised the event, saying it sounded "very like Father Ted's Lovely Girls competition", while Sinn Féin women's issues spokesperson Megan Fearon said the "tight criteria also discriminates against the vast majority of women".
Ms McTernan said the rules complied with those for the overall Miss Universe competition.
The winner will go on to represent Ulster in the Ireland heat of the Miss Universe competition.