National Statistics Office: Belfast people most anxious in UK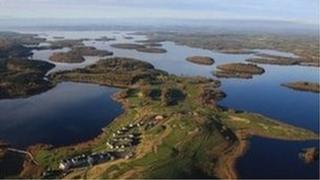 The people of County Fermanagh are the happiest in the United Kingdom.
That is according to data gathered by the Office for National Statistics to measure different elements of life satisfaction.
The figures also show that people in Belfast are more anxious than anywhere else in the UK.
For the first time, the Office for National Statistics has given a geographical breakdown of its happiness surveys.
It shows that more people in Northern Ireland rated their life satisfaction as very high than in any other party of the UK.
Within Northern Ireland, Londonderry has the lowest score for happiness - well below the UK average, while Fermanagh tops the list followed by Moyle, Lisburn and Limavady.
When it comes to anxiety levels, lots of places in Northern Ireland are above the UK average, but it is Belfast that tops the list as the most anxious place in the United Kingdom.