Archer Patrick has Olympics in his sights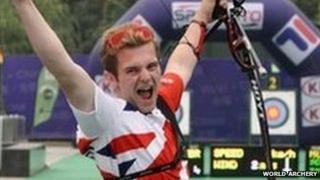 A 17-year-old Belfast student is targeting the Olympics after winning two gold medals in the World Archery Youth Championships in China last week.
Patrick Huston, a member of the British youth archery team, won individual gold and took top spot in the mixed doubles in which he was partnered by England's Becky Martin.
The Campbell College student has been involved in archery since he was eight and founded the East Belfast Archery Club in 2011.
Patrick said a lot of muscle strength and control was needed in the use of the modern high-poundage bow.
"If you shoot a lower-poundage bow, the arrow gets affected by the wind, so the higher-poundage bow is better.
"You also need a great degree of focus so that you can shoot under the pressure. I was really pleased with how I dealt with the pressure."
'Intense experience'
"In practice, I don't focus, but in competition, the more pressure the better I feel."
"When you are in the finals, you are in a venue, with you and your competitor, and TV cameras all around you and a microphone strapped unto your coat, it really is an intense experience.
"I was really calm when I was shooting and it generally went very well."
Patrick said much of his archery training involved repetition.
He usually spends 10 hours a week shooting "thousands of arrows" and takes part in a competition each weekend.
Following his double gold success in China, Patrick is hoping to secure a place on the Great Britain archery team in time for the Olympics in Brazil in 2016.