Viramontes fingerprints found on bag that contained Natasha McShane passport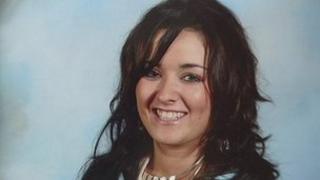 A court in Chicago has heard that a fingerprint found on a bag that contained Natasha McShane's passport could be matched to the man accused of her attempted murder.
Heriberto Viramontes is accused of the attempted murder of Ms McShane and Stacy Jurich in Chicago in 2010.
Prosecutors also told the court they had recorded hours of telephone conversations between Mr Viramontes and his former girlfriend.
Kira Lungdren testified on Tuesday.
The fingerprint was found on a plastic bag that contained Natasha's passport. It was dumped in a rubbish bin and the print was matched to a fingerprint taken from Heriberto Viramontes.
The Cook County Criminal court heard testimony from a fingerprint expert attached to the Illinois State Police crime lab.
Michael Cox said a print found on the plastic bag was compared to one from Mr Viramontes. He concluded they match.
The court previously heard that the bag was found in a bin outside a petrol station.
Co-defendant, and prosecution witness, Marcy Cruz testified that she saw Mr Viramontes "throw some stuff into a garbage can" at the station, where the pair were also caught on camera.
A defence lawyer closely questioned Cox, who admitted part of his analysis was subjective and that the features on fingers, ridges, endings and others, are not unique, each are found on almost everyone.
The print from the bag was also distorted, said Cox under cross examination.
Telephone conversations
Prosecutors told the court they had taped hours of telephone conversations that Mr Viramontes had with Kira Lungren while he was in custody.
Excerpts of those and others have not yet been aired in court but are expected to be.
Mr Viramontes' girlfriend Kira Lundgren told jurors that she saw him and his co-defendant, Marcy Cruz, late on the night of the attack.
Ms Lundgren said they picked her up in Cruz's van and when they stopped at a petrol station she saw the defendant talk to another customer.
She said he appeared to have a credit card in his hand, that he seemed "agitated", and was moving his hands "emphatically" as he spoke.
The following day Kira Lundgren said she saw Mr Viramontes and Marcy Cruz looking at a newspaper but that they would not let her see what they were reading.
Marcy Cruz testified against Mr Viramontes on Monday.
She alleged that on the night Natasha McShane and her friend were robbed and beaten with a baseball bat, that she was with Mr Viramontes who had grabbed a baseball bat from her van, jumped out and returned three minutes later with two purses, telling her he had done something "bogus".
She claimed he took the credit cards while she took cosmetics.
On Tuesday Mr Viramontes' girlfriend told jurors she saw "high-end" cosmetics on Marcy Cruz's kitchen table.
Kira Lundgren is testifying against her boyfriend in return for a shorter prison sentence, after she was caught smuggling marijuana into the jail where he was being held.
Ms McShane, from Silverbridge in County Armagh, who is now 27, is unable to speak and struggles to walk or do simple tasks as a result of the injuries she sustained in the beating.
She had been attending the University of Illinois at the time of the assault.
Mr Viramontes is charged with two counts of attempted murder and 23 other charges, from misuse of a credit card to aggravated battery.
The trial continues.