MLAs 'mean-spirited' over North South co-operation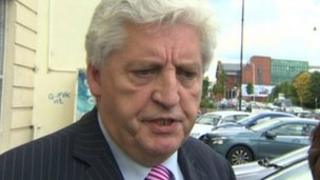 The SDLP leader, Alasdair McDonnell, criticised MLAs who were "mean-spirited and as obstructive as possible" when it came to North South co-operation.
He was bringing his party's motion expressing "disappointment and frustration" at the delay in completing the review of the North South implementation bodies that had been underway since 2007.
"Full North South cooperation is a key part of a prosperity process for Northern Ireland," Mr McDonnell said.
Stephen Moutray of the DUP said the motion was an attempt by the SDLP to embarrass Sinn Fein.
He said his party backed practical co-operation which was to the mutual advantage to the people of both countries.
"I'm disappointed but not surprised that the SDLP remain wedded to this dogma of the past," Mr Moutray said.
Sinn Fein's Bronwyn McGahan welcomed the motion, saying that North South cooperation was a key element of the Good Friday Agreement.
She gave some examples of practical cooperation, including the radiotherapy service at Altnagelvin Hospital in Londonderry, action on mobile phone roaming charges in border services, and cooperation in university research.
The Ulster Unionist leader, Mike Nesbitt, described the delay to the review as "ridiculous" and that six years was "far, far,far too long".
He said he could not support the motion as it called for support for the recommendations made in the review and they had not yet been written.
"I cannot accept recommendations I have not seen," he said.
The motion was carried by 38 votes to 32.