Air passenger duty abolition 'could cost £3bn'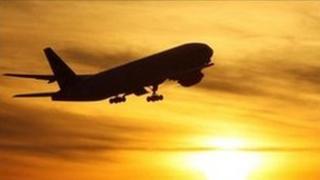 A Treasury minister has said abolishing air passenger duty could cost up to £3bn and would be irresponsible.
The DUP had used a Westminster debate to call for the scrapping of the tax, which costs £13 per passenger on domestic flights.
This debate was led by the former Stormont finance minister Sammy Wilson.
He said the tax has a disproportionate impact on Northern Ireland as people there do not have the option of getting a train to other parts of the UK.
Mr Wilson cited a report from the consultants PwC which said that abolishing the tax would have a neutral effect on government finances as it would lead to increased growth.
However, Treasury Minister Nicky Morgan said that the government did not agree with the assumptions in that report.
She said that no responsible administration could relinquish £3bn of revenue.
Labour MP Kate Hoey suggested that government ministers might like to travel to Northern Ireland via the Stranraer ferry in order to share the travel experience of people who cannot afford to fly.