Shortage of quality offices 'could hit jobs efforts'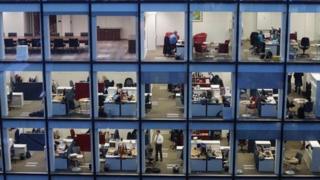 A shortage of quality office space in Belfast could jeopardise attempts to win jobs from the UK and overseas, a commercial property agency has said.
David McNellis, a director at Lisney, said: "If we are not at crisis point we are certainly very close to it."
Most of the city's vacant office stock is too old and too small, he said.
It has emerged that Invest NI is now reviewing whether Stormont needs to help develop new office space for potential inward investors.
Mr McNellis said: "Typically these investors are footloose.
"They will look at the likes of Glasgow, Manchester, Birmingham. Belfast has a competitive edge in terms of pricing but we are very low in stock."
Currently Belfast has 900,000 square feet of empty offices, but less than a quarter is what is classed as Grade A - modern, fully-fitted and air-conditioned.
Confidence
But the problem is being compounded because all but 5% of the Grade A will soon be let and at a time when Stormont is attempting to convince the likes of overseas IT and financial service firms to come to Northern Ireland.
Invest NI does not have a remit to build or develop office space.
It has though been in "extensive" discussions with Belfast Harbour which is poised to construct a new £10m, five-storey office building at City Quays.
"They have helped us develop the layouts, taking on board the comments they have received from prospective investors," said Graeme Johnston, the harbour's property director.
He said after the recent international investment conference he was confident the offices would be occupied.
Invest NI said: "To date we are not aware of any FDI (foreign direct investment) projects which have been lost as a result of lack of property provision.
"Invest NI is currently reviewing the need for government intervention in the property market across all areas of industry including the provision of Grade A space."
The review was started a number of weeks ago and could complete by Christmas.