Ballymena bin attack accused 'under loyalist threat'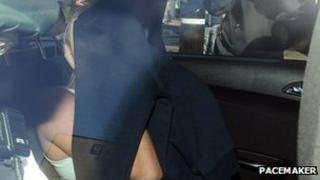 A woman charged with attempting to murder a man found naked and beaten in a bin has been threatened by loyalist paramilitaries, a court has heard.
Paula Wilson, 20, of Millfield, Ballymena, was granted bail last month.
However, she handed herself back into custody after hearing of a planned show of strength and potential petrol bombing at her previous bail address.
The judge ruled that she could be released again to live at a new, undisclosed location.
"It would be a pretty unhappy state of affairs if those criminal elements could dictate who can and can't get bail," he told the High Court in Belfast.
Ms Wilson and two other men, Teri Lau of Dunclug Park, David Roddy Patterson of Glendun Drive, both 26, are charged with the attempted murder and false imprisonment of 20-year-old Adam Robinson in the town last month.
Mr Robinson was discovered by dog walkers in a wooded area at Sentry Hill on 3 September.
Ms Wilson had previously been granted bail to stay at an address in Cullybackey, near Ballymena, but the court heard on Tuesday that she turned herself in to police 24 hours later because of two separate threats.
'Drink and drugs'
The court heard allegations she was linked to the incident by witness descriptions of a woman near where Mr Robinson was found in the bin.
One of them described this woman as having a distinctive vine tattoo on her leg - similar to one said to be on Ms Wilson.
A prosecution barrister said there was no known history between Mr Robinson and any of the accused.
"It just appears to have been a party, drink and drugs, and perhaps Mr Robinson being friendly towards Ms Wilson, who is the girlfriend of Teri Lau, which led to this shocking incident," she told the court.
She opposed the granting of bail, claiming Ms Wilson would be living less than two miles from the "psychologically traumatised" victim and would probably result in a chance encounter between them.
However, a defence lawyer said the victim himself stated he did not believe she was involved in attacking him, and that several of his Facebook posts suggested he had a sense of humour about the incident.
He also said the tattoo would not be allowed to feature at any trial, because it was reported after the case was subjected to "a blaze of publicity".
Asking the judge to grant bail, he specified that the proposed new address is in a nationalist district.
In his ruling, the judge said his colleague who previously granted bail had decided the potential risk of interference could be managed.
He described the alleged attack and imprisonment of Mr Robinson as "a most heinous incident".
"I consider there's a prima facie case that the applicant has been involved not in the assault but in the subsequent events which related to the disposal of the injured party in a wheelie bin which was heavily taped-up in a park and could have had disastrous consequences for him," the judge said.
She was released on bail on conditions that include a ban on entering Ballymena town and on contacting the victim or co-accused.