Health minister and DPP discussed abortion law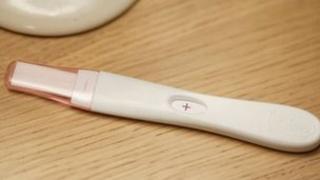 Northern Ireland's health minister and director of public prosecutions discussed abortion issues last Friday, it has emerged.
The details emerged at Stormont's health committee, which heard there was a complete review of Northern Ireland's abortion guidelines in 2011.
It happened when Edwin Poots was appointed health minister.
Civil servants told the committee this sort of review happened in many areas of policy.
There have been calls for clarity on the abortion law in Northern Ireland after women carrying babies with fatal foetal abnormalities told their stories.
Foetal abnormality is not a reason for abortion under Northern Ireland law.
Draft guidelines were published in March, but following a consultation process, revised guidelines are being brought before the Northern Ireland Executive within weeks.
Last week the DPP, Barra McGrory, said it was not a criminal offence if someone assists a woman going to England for a lawful termination.
A civil servant told a health committee briefing she was unable to explain why the DPP had not been asked for his views prior to last week.
But she added they would now be reflected in the updated document.