Stormont beauty pageant causes controversy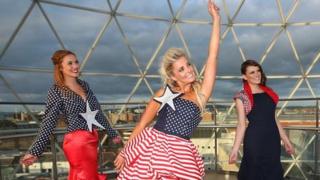 An assembly member has withdrawn from the judging panel of a beauty pageant being held at Stormont because of rules about the size of the entrants.
The Miss Ulster competition is being held at the seat of Northern Ireland's government this weekend.
Entrants must be aged between 18 and 24, be at least 5ft 7ins tall and must be between a size eight and a size 12.
Ulster Unionist Jo-Anne Dobson said she had not been aware of the restrictions when she agreed to be a judge.
"I was not aware that this competition excluded anyone from entry, and had I known this, I would not have agreed to take part," she said.
"In my role as an MLA I host many events at Parliament Buildings which are open and available to all.
"Whilst I have no issues with modelling as a career, Parliament Buildings is all about inclusivity."
Earlier the leader of her party described the pageant's regulations as "bizarre".
"Bizarre, absolutely bizarre. I can see no rationale for it," Mike Nesbitt told BBC Radio Ulster's Nolan Show.
"Lots of different things happen at Stormont, if people want to have a beauty pageant I suppose there's nothing illegal about it, but how bizarre to say you have to be a certain size to enter.
"That just doesn't seem to make any sense."
'Lovely Girls'
Enterprise Minister Arlene Foster also criticised the event.
"The Miss Ulster competition due to be held in Stormont with 'rules' for entrants to be between size eight and 12 at its most benign sounds very like Father Ted's Lovely Girls competition," she said.
"With so many young girls facing peer pressure about their image, competitions structured like this are deeply unhelpful and could be damaging to their self-esteem."
Sinn Féin women issues spokesperson Megan Fearon said it was embarrassing that a beauty competition had been arranged for Stormont.
"The fact that to enter this competition you need to meet a tight criteria also discriminates against the vast majority of women," she said.
"This criteria has stereotyped the look that many young women believe they must match otherwise they are not attractive. This has lead to issues such as eating disorders, lack of confidence, anorexia, depression and even suicide of young women.
"Women deserve to be treated with equality and respect and not judged on their appearance."
Miss Universe rules
However, event organiser Michelle McTernan said the rules complied with those for the overall Miss Universe competition. The winner will go on to represent Ulster in the Ireland heat of the Miss Universe competition.
"These girls are going on to carve out a future modelling career," Ms McTernan said.
"I do organise other competitions, like plus size modelling competitions for size 14 and over and competitions for girls who are a little shorter. But for this competition, yes there are rules and regulations.
"The women in Miss Ulster, they're not just getting judged on their looks, they're being judged on their personality, on how capable they are of being an ambassador for Ulster."
Among the judges for the competition are SDLP assembly member Dolores Kelly. The host is NI21 leader Basil McCrea.
Ms McTernan said saw no problem with holding the event at Stormont.
"Why shouldn't we do it at Stormont? Stormont is funded by public money, it's a public building, there should be a place for everyone to use Stormont," she said.
"Isn't it nice for something positive to come out of Stormont?"
"Mo Mowlam, the (former) secretary of state opened out Stormont to be an entertainment venue, so why not have Miss Ulster there?
"We had it there a couple of years ago and this debate did crop up, but we ended up having a very successful and very enjoyable evening."
She said local retailers as well as students from Belfast Metropolitan College were getting to showcase their clothes.
"I think we should just take it for what it is, it shouldn't be controversial. There's nothing undignified or degrading to these girls."