Step closer for Larne Lough gas plan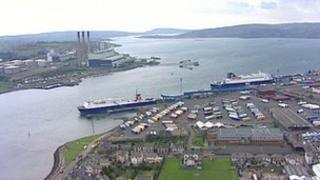 A planned gas storage facility under Larne Lough has been shortlisted for a government funding guarantee.
The £400m facility would store imported natural gas in seven excavated caverns holding enough gas to satisfy Northern Ireland's energy needs for 60 days.
The UK Guarantee scheme allows the government to act as guarantor for a proportion of the value of a project.
That means banks or investors can have confidence they will get their money back if the scheme does not go to plan.
The UK Guarantee scheme is authorised to issue up to £40bn of guarantees.
So far, the guarantee has been used just once since the policy was announced in July 2012.
That was for the Drax power station in Yorkshire with the government underwriting £75m of funding on the £700m project.
Guarantee in place
The Larne Lough project is now at the "prequalification" stage meaning that it is eligible for the scheme.
However it can take months, or sometimes years, after prequalification before the guarantee is in place.
The Larne Lough scheme is being developed by Islandmagee Storage Ltd and has planning permission and a gas storage licence.
Applications have been also been submitted for marine licences and other consents will also be needed before the project can proceed to full construction and operation.
Islandmagee Storage director Paddy Larkin said he was "very confident that this project can be financeable".
"This is great news from the Treasury. It is well understood in government that at Islandmagee, with its uniquely favourable geology and proximity to strong-points on the gas and electricity networks, we have an overwhelmingly advantageous location for a gas storage facility," Mr Larkin said.
"We welcome both the vote of confidence from the Treasury, but also the fact that they are ready to back the project financially if necessary."
He added that a major barrier to progress was now cross-border regulation of gas transportation tariffs, which required a joint approach from energy regulators in Belfast and Dublin.
A project in Scotland that includes a Northern Ireland-based construction firm has also reached the prequalification stage.
Heron Property is part of a consortium planning a huge mixed-use development on the outskirts of Aberdeen.
The Countesswells project is aimed at building 3,000 homes and developing a further 10 hectares of land for commercial use.