Natasha McShane attack lasted three minutes, court told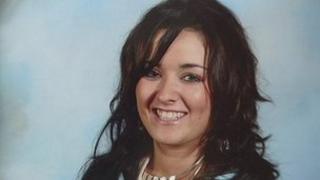 An attack that left a County Armagh student brain damaged lasted just three minutes, a court has heard.
The trial of Heriberto Viramontes, 34, heard from a woman who said she was with him the night Natasha McShane and her friend were robbed and beaten.
He is accused of attempting to murder the women in Chicago in April 2010.
The prosecution witness, Marcy Cruz, said she stayed in a van smoking marijuana as the defendant went to "rob some women".
Ms McShane and her friend, Stacy Jurich, were attacked under a viaduct as they walked home together after a night out in Chicago on 23 April 2010.
Marcy Cruz has pleaded guilty to her role in the attack.
She testified against Mr Viramontes on Monday as part of a plea deal, and said she expected to serve 19 years of a 22-year sentence.
Cruz told Cook County Criminal Court that they had been driving in her van in the Bucktown neighbourhood when he told her to "look at these white hoes".
She told the court he grabbed a wooden bat from the van, jumped out and was gone long enough for one song to play on the radio, while she stayed behind smoking marijuana.
When Mr Viramontes returned, he allegedly said to Cruz that "the girls were really pretty" and that he did some "bogus" stuff.
She said he had two handbags with him and told her to "drive off".
The defendant grabbed the credit cards and told Cruz to take what she wanted, the court heard. She said she took some perfume.
The court later heard that police first talked to Cruz two days after the attack on the two young women, after someone in her apartment block used Ms Jurich's mobile phone.
Following the brief conversation with police, Mr Viramontes told her to get rid of the phone.
Under cross-examination, Cruz admitted giving different stories to the police at different times. She said she did not tell the truth when first questioned by police following her 26 April arrest.
Multiple tests carried out on swabs revealed no blood in the van allegedly used by Heriberto Viramontes, the court heard.
There was no blood on the bat found in the van, according to a forensic biologist with the Illinois State Police crime lab.
DNA samples were taken from Ms McShane, Ms Jurich, Mr Viramontes and Cruz for comparison with swabs taken from the baseball bat.
They knew there was DNA from three people in the sample but could not carry out separate tests as they were all mixed in together.
While DNA from the three women was not found, the results for Mr Viramontes were inconclusive. It could not be ruled out, the court was told.
Ms McShane, from Silverbridge in County Armagh, who is now 27, is unable to speak and struggles to walk or do simple tasks as a result of the injuries she sustained in the beating.
She had been attending the University of Illinois at the time of the assault.
Mr Viramontes is charged with two counts of attempted murder and 23 other charges, from misuse of a credit card to aggravated battery.