In the Spotlight: BBC NI's current affairs programme turns 40
BBC Northern Ireland's current affairs programme, Spotlight, has been on the air for 40 years.
Lots of people from Northern Ireland have a Spotlight programme they remember.
Writer Danny Morrison, formerly the director of publicity for Sinn Féin, recalls watching the very first edition, in somewhat challenging circumstances.
He was interested in current affairs and the political developments of the day, and he hoped the new show might offer some insight into a society that had already entered the dark chaos of political violence.
But it is not easy making an appointment to view a programme when you need to win the agreement of the 70 other men interned with you at Long Kesh prison, and all of you are sharing one small black and white television.
Playwright Damian Gorman recalls an early emotional engagement with Spotlight.
In 1974 the programme tackled the taboo subject of domestic violence - a subject he was all too familiar with.
Then, as he watched more programmes over the following months, he felt an intangible link between the strife that existed at home, and Northern Ireland's public descent into chaos.
Well-known names
"My parents used to fight with each other, and... I noticed then that there was fighting on the TV and I became interested in it because I thought that these two things were related somehow," he said.
"That the fighting that was starting to happen outside on the streets in the north was the same as the fighting that had... y'know it had come into our house in some way."
The presenter of that early programme on domestic violence, incidentally, was a bright young newcomer called Gloria Hunniford.
Plenty of well-known names have passed through the Spotlight office - newsmen Jeremy Paxman, Gavin Esler and Alex Thomson forged their careers at Spotlight.
Novelist Bernard Cornwell - who went on to write the Sharpe series of novels - worked at the programme for three years, as Bernard Wiggins.
In fact, in a tale that has now entered Spotlight lore, Cornwell met his wife while making a Spotlight.
In an act of almost obscene optimism, tourism bosses invited a group of travel agents from America to war-torn Northern Ireland in 1978 in the hope that they would send thousands of American tourists to holiday there.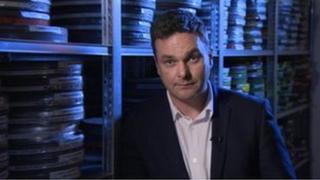 That did not happen, but some good came out of it.
As the TV producer, Cornwell noticed a particularly attractive American travel agent emerge blinking into the harsh sun.
Unintended consequences
He nudged Gavin Esler, the reporter he was working with, and said: "I'm going to marry that one."
Cornwell was clearly a man who knew his own mind, because he did marry her.
Moving to America to be with his new wife, he found the US authorities reluctant to provide him with a working visa, so he sat down to write, and the Sharpe novels were born.
Spotlight programmes can sometimes have unintended consequences, but surely this is one of the more extreme examples of the phenomenon.
Spotlight is now 40. To celebrate that milestone, the Spotlight team have spoken to staff from the past to hear about the job they did in a very different Northern Ireland.
But what strikes you are not the differences, but the basic similarities in the programme's philosophy - to tell the truth about something the audience probably did not know about before.
It is an ambition that has served Spotlight, and also, hopefully, its audience, well.
From recent programmes on the Red Sky company and the investigation into the Iris Robinson story, back through exposés of loyalists, republicans and so-called ordinary criminals, Spotlight has asked hard questions of everyone. It is still doing so today.
Sense of unease
As for me, my own most memorable Spotlight experience was probably the day I walked into the office for the first time.
I had been working as a magazine editor in Dublin, and against all expectation, somehow landed myself a job as a Spotlight reporter.
In Dublin, I had rarely worked for more than a few days on any particular story, and had never travelled abroad as part of the job.
Coming into the Spotlight office, I had a deep sense of unease, convinced that someone, somewhere, had made a terrible mistake, and that I would surely soon be found out.
Instead, the editor brought me into his office and asked how soon I could leave for an undercover reporting job in Lithuania, which was likely to take several months and might at times be rather dangerous.
I was 25, and thought I had just been given the best job ever. I was right.
Declan Lawn presents Spotlight at 40 on Tuesday, 22 October on BBC One Northern Ireland at 22: 35 BST.