None of £80m Social Investment Fund spent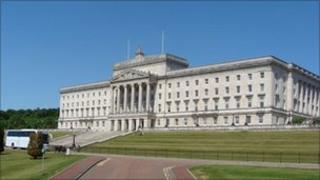 None of the £80m allocated to a fund to tackle poverty in Northern Ireland has so far been spent, it has been confirmed.
The £15m allocated for the current financial year for the Social Investment Fund has been reallocated.
The fund, set up to tackle inequality and unemployment, was announced in March 2011.
Although none of the money has been allocated, almost £400,000 of the fund has been spent on consultants.
The figure was revealed following a written question from the UKIP leader in Northern Ireland, David McNarry, to the Office of the First and Deputy First Minister (OFMDFM)
"It appears £389,847 from the Social Investment Fund has gone to consultants," Mr McNarry said.
"What a disappointment. Are they really telling us that there is no need for urgent spending on poverty and unemployment?"
The Detail, which first reported the story, also said that while red tape has caused difficulties, there also appeared to be a political stand-off over whether more of the money should go to Protestant or Catholic areas.
'Not a penny'
Alliance Party assembly member Chris Lyttle called on the DUP and Sinn Fein to reach agreement on the criteria against which the money will be allocated.
"This is an £80m fund to help tackle deprivation and promote education, employment and health in our community and yet, as far as I am aware, two years on, not a penny has been released to projects," he said.
"The Social Investment Fund has been hampered by a lack of transparency and information since its launch in March 2011.
"There is now clearly an urgent need for the first and deputy first ministers to clarify what is going on for the benefit of the many community and voluntary sector groups hoping to make good use of this fund."
In a statement, the Office of the First and Deputy First Minister (OFMDFM) said that "as part of October monitoring, the £15m capital funding held for the Social Investment Fund in this financial year will not be spent.
"Accordingly this funding was reallocated in this round.
"We understand that OFMDFM is in the process of reprofiling the funding requirements associated with the Social Investment Fund and it will be for the executive to consider the implications of that work"