Maghaberry prison to get drug rehabilitation unit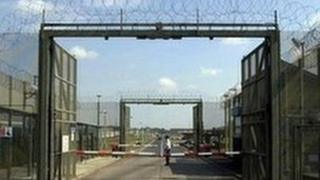 Prisoners in Maghaberry jail are to have access to a drug rehabilitation unit that will provide intensive help for those with addiction problems.
Prison Service officials said the specialist unit would be the first in the UK when it opens next year.
Up to 15 prisoners will be able to participate in 12-week programmes at the unit in Glenn House on the site
Justice Minister David Ford also outlined plans to allow women prisoners greater freedom of movement.
About 60 women are held in Ash House, at the women's prison and young offenders centre at Hydebank Wood in Belfast.
The minister plans to use another facility on the site, Alderwood House, as a "step-down unit" where up to 12 prisoners can attend daytime courses.
Mr Ford told the assembly he still wanted to develop a new prison for women offenders, but this was unlikely until the next comprehensive spending review.
The justice minister also confirmed 457 officers have left the Prison Service under a voluntary early retirement scheme.
About 300 new officers have been recruited, and 100 employees converted to custody officer status.
The Prison Service employs about 2,000 staff. Between 1,600 and 1,700 of these are uniformed officers.