Fianna Fáil's Micheál Martin warns of NI peace process 'complacency'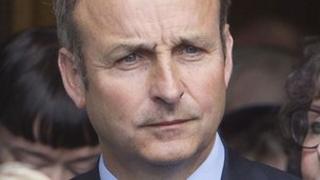 The leader of the opposition in the Republic of Ireland has accused the British and Irish governments of being complacent over the peace process.
Fianna Fáil's Micheál Martin said there was a "growing sense of crisis in Northern Ireland" over the last year.
The year has been marked by rows over flags, parades and a new peace centre.
Mr Martin said: "Sectarian disputes are on the rise and public faith in the institutions of the Good Friday Agreement has collapsed."
He added: "The Assembly and Executive are dominated by the squabbles of the DUP and Sinn Féin as they focus on their own party interests."
'Disinterested'
The Fianna Fáil leader made the remarks as he addressed the Annual Wolfe Tone Commemoration in Bodenstown, County Kildare, on Sunday.
He told the crowd: "What has been missing is any serious engagement by either the Dublin or London governments. They have been complacent and disinterested."
Mr Martin said that the Taoiseach (Irish prime minister) Enda Kenny "needs to start giving it his attention or the consequences may be much greater than we already fear".
He warned of "escalating tensions at community level" and told the Irish coalition government: "Formal meetings and dinners aren't enough - you have to spend the time developing links and building trust."
The Fianna Fáil leader said it was "particularly damaging" that both governments had "ignored" the issue of economic development through co-operation between Northern Ireland and the Republic of Ireland.
"This is how you end up with Sinn Fein and the DUP going to Downing Street to launch a development plan for Northern Ireland which makes no mention of the Republic - and how you can have a major investment conference in Belfast with no participation by the Taoiseach.
"Worst of all it is how vital north-south infrastructure projects such as the Narrow Water bridge are being abandoned because of a lack of commitment from the governments."
'Fully committed'
The cross-border bridge project, that would link the town of Warrenpoint in County Down to Omeath village in County Louth, was put on hold in July due to funding concerns.
Mr Martin said that he intends to launch "a specific initiative by Fianna Fáil to identify and promote new areas of co-operation" over the coming months but did not reveal details of his plan.
An Irish government spokesman said: "The government remains fully committed to the Northern Ireland peace process, and continues to pay very close attention to Northern Ireland issues, including north-south co-operation.
"This includes close engagement by the Taoiseach, Tanaiste (deputy prime minister), ministers and officials across a wide range of levels, including with the British government and the Northern Ireland Executive and more broadly at political, community and business levels.
"Micheál Martin's comments do not stand up to any objective analysis."
Mr Martin is a former minister who led a number of government departments including the Irish Department of Foreign Affairs.
He was elected leader of Fianna Fáil in January 2011.