Royal Inniskilling Dragoon Guards mark end of regiment with colour parade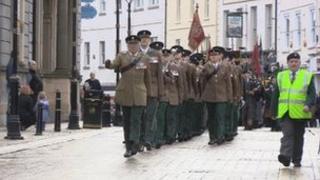 A regimental banner has been paraded through Enniskillen, County Fermanagh, for the final time.
The final standard of the 5th Royal Inniskilling Dragoon Guards was laid up in St Macartin's Cathedral following a church service on Sunday.
It was the last official duty for the Old Comrades of the Regiment.
Enniskillen is the only town to have its name carried by two Army regiments, the Royal Inniskilling Fusiliers and the Royal Inniskilling Dragoon Guards.
The name Inniskilling disappeared when it was amalgamated to form the Royal Dragoon Guards in 1992.
The banner, which depicts the battle honours of the regiment dating back more than 300 years to the Battle of the Boyne, will be displayed alongside others in the cathedral's regimental chapel.
'Proud'
Serving soldiers from the Royal Dragoon Guards who have just returned from Afghanistan took part in the parade through the town on Sunday.
Commanding Officer Lieutenant Colonel Tom Bateman said it was an emotional day but he added that it was not the end of the Inniskillings.
"It's the continuation of their legacy to us as they pass it on to us and we the Royal Dragoon Guards will carry that on," he said.
"We're very, very proud of the history that they have which stretches back 300 years.
"It (the standard) represents the passion and honour of a regiment, it is the history that we carry with us and the pride that we have in our everyday activities."