Masked pair shoot man in New Barnsley, west Belfast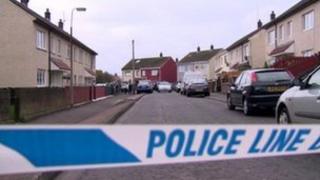 A man has been injured in a shooting in west Belfast.
Two masked men shot the 19-year-old in the buttock at New Barnsley Gardens. The attack happened at about 14:30 BST on Saturday.
The victim has been taken to hospital for treatment to his injuries that are not believed to be life-threatening.
It is believed that the two masked men, who were wearing dark clothes, escaped in the direction of Vere Foster Walk.
Police have appealed for anyone with information to contact them.