'Cow rib used to hit schoolboys' in Belfast attack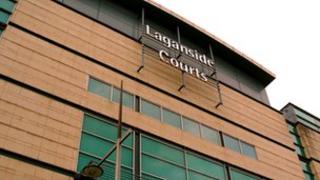 A man has appeared in court accused of clubbing two schoolboys with a foot-long cow rib in an attack police said was "racially motivated and sectarian".
Belfast Magistrates' Court heard the teenage boys were walking home along the city's Crumlin Road on Friday afternoon when they were targeted.
Daniel Waller, 22, allegedly shouted both racist and sectarian abuse as he launched the "unprovoked attack".
Mr Waller, of no fixed address, was refused bail and remanded in custody.
Objecting to his release his bail, a police constable described how one boy was beaten about the head and body, and needed staples for his wounds.
His friend's blazer was torn when he tried to step in to protect him.
The court heard that the schoolboys ran off, but such was their state of panic that they "narrowly missed" being run over by a lorry.
The judge was told that when Mr Waller was arrested he was so drunk he was not fit for interview.
When he was questioned by police the following day, he said he could not remember what happened.
The defendant is charged with possessing a weapon, namely an animal rib, with intent to cause actual bodily harm.
He is also charged with two counts of causing actual bodily harm and causing criminal damage to a school blazer.
The police officer said she was objecting to bail because in her view, "he is a danger to the public" given the allegations that he had launched an unprovoked, "racially motivated and sectarian" attack.
Refusing the bail application, the judge said he shared police concerns and had "no confidence that there is any term I could put in place that would adequately protect the public".
The defendant was remanded in custody to appear again in court on 7 November.