IRA victims protest against Gerry Adams at London conference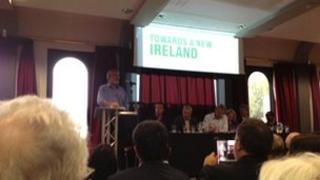 Relatives of IRA bomb victims have staged a protest as the Sinn Féin president Gerry Adams arrived to address a peace conference in London.
About 20 protesters gathered outside the London Irish Centre in Camden, where Mr Adams delivered a speech about the future of the NI peace process.
There was a small scuffle among some protesters but police restored calm.
Brian Hambleton, whose sister died in an IRA bomb in Birmingham 39 years ago, called on Mr Adams to name her killers.
Maxine Hambleton was one of 21 people who were killed when two IRA bombs exploded in the Tavern in the Town and The Mulberry Bush pubs in November 1974.
She was 18 at the time of the attack.
Mr Hambleton said: "We're here just to spread our campaign and to put our footprint in the capital.
"You've got Gerry Adams inside spouting about peace and reconciliation. He needs to address his past before he can go forward. You can't have peace and justice without the truth.
"Why isn't he forthcoming with the names of the perpetrators who killed my sister and all the other victims on the mainland?"
Mr Adams later told the BBC he does not know the names of the people behind the IRA bombings but that his "heart goes out" to anyone who had lost a loved one.
The Sinn Féin leader said: "I come from a community which has suffered, I have family members who were killed, I've been shot myself.
"I've stood at many, many gravesides and been at many, many funerals, so I don't for one second underestimate the grief and the loss that violent death brings to any clan."
He added: "I have met many, many victims' families over the years and I will continue to meet victims' families over the years."
Mr Adams said that rather than staging a demonstration outside the conference, the protesters "should have been inside the hall" as there was an "open invitation" to all.
The title of the event is 'Towards a New Ireland - A New Phase of the Peace Process'.
Mr Adams was joined on the panel by a number of politicians and the peace campaigner, Colin Parry, whose son Timothy was killed by an IRA bomb in Warrington in 1993.
Other speakers include Jonathan Powell, Tony Blair's former chief of staff, Labour MP Diane Abbott, Baroness Angela Smith, and John McCallister from NI21.