Peter Robinson challenges unionists to drop 'siege mentality'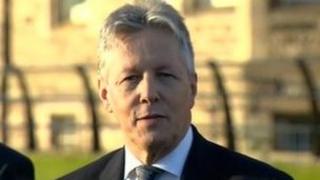 First Minister Peter Robinson has challenged unionists to drop their "siege mentality".
He said they should move forward with nationalists to overcome the problems facing Northern Ireland.
"Unionism has historically had a siege mentality," he said.
"When we were being besieged it was the right response. But when we are in a constitutionally safe and stable position it poses a threat to our future development."
Mr Robinson made his remarks in a speech to Castlereagh council on Friday.
It came less than 24 hours after he acknowledged the efforts of the Gaelic Athletic Association (GAA) to build better community relations in a symbolic address at Queen's University in Belfast.
"Unionists and nationalists will face some big decisions in the next few months," added Mr Robinson.
"We can get back on track to a shared and united community which can benefit everyone in Northern Ireland or we can go back to the 40-year conflict. There is no middle option."
Reflecting on a troubled last 12 months, when disputes over flags, parades and commemorations erupted into street disorder and damaged community relations, the DUP leader said there was a need for more strategic thinking within unionism.
He urged the unionist community not to let recent difficulties throw them off course from the ultimate objective of forging a "shared and united" society.
Mr Robinson said there was no prospect of the assembly falling, but nevertheless warned that such a development would likely lead to an upsurge in paramilitary violence.
Former US diplomat Dr Richard Haass is currently chairing talks in a bid to find solutions on the contentious issues of flags, parades and dealing with the past.
'Act strategically'
While Mr Robinson's address included criticism of, and challenges to, nationalism and republicanism, its intended audience was unionism.
He said the Union was stronger than ever, and cautioned unionists not to "turn the clock back to a bygone era" and urged them to have more self confidence.
He said unionism should not be defined simply by the issues of "flags and parades" but by what he described as the benefits of living in the UK.
"Unionism needs to think and act strategically," he said.
"Adopting political strategies that will inevitably lead down a cul de sac is not politically courageous, it is politically crazy. Because if unionists are not seen to make Northern Ireland work within the Union then no one will.
"Unionism will only succeed if it is a broad coalition of interests. I accept that not every person who wishes to remain part of the United Kingdom will share my affection for the national flag or even my cultural heritage.
"My responsibility as leader of the largest unionist party is to seek to hold that broad coalition together for it is only the capacity to bring together those with differing views under a common banner that gives unionism its strength."
The speech marked the installation of David Drysdale as mayor of Castlereagh.