Union flag protesters sue Facebook over online threats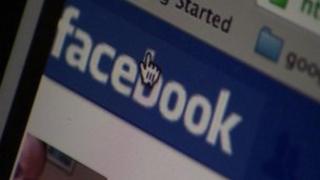 Two union flag protesters, who allegedly fled their homes after being threatened online, are suing Facebook.
One of them was threatened with being shot and also allegedly told in the street he would be kicked to death, the High Court heard on Friday.
His legal team claim this verbal warning can be linked to the social media network because reference was made to the name he used on the site.
The men lived near sectarian flashpoints in north Belfast.
Lawyers for the men, who cannot be identified, have already secured the removal of pages referring to their activities.
They are seeking damages from Facebook over comments posted in connection with their involvement in protests about the restricted flying of the union flag at Belfast City Hall.
Concerns surrounding the second plaintiff have been heightened by his ex-partner being related to a republican, the court heard.
But the judge refused to impose a further interim injunction requiring Facebook to monitor for any future reference to the pair.
He said it would mean going beyond all previous orders against Facebook and could potentially lead to its shutdown.
'Serious threats'
He told lawyers for the men: "My concern is that (with) this monitoring you are pushing the court at this stage to a level that no court has yet gone.
"You are taking it to an area where Facebook may have to close down if they have to monitor all one billion of their users. I'm not sure how they could do that."
In a case pitching rights to life, privacy and freedom from torture and degrading treatment against freedom of expression, a barrister for the men argued that the risks were real.
He said: "There are serious and significant threats. Both plaintiffs have left their homes and are in fear for their lives."
He contended that Facebook has a responsibility to use any available technology to monitor for any reference to his clients' names in association with flag protests.
"There must be a whole range of electronic devices that work on an immediate basis that doesn't require human beings to sit at a screen monitoring posts as they appear," he added.
'Burden'
But a lawyer for Facebook argued that the application was vague and amounted to trying to stop its one billion worldwide users from referring to the same names as the two men.
With provisions already in place for the removal of any offending content from the site, he argued that the plaintiffs themselves would be in the best position to scrutinise and check for such material.
He also said that legal issues around social media are a "hot topic" in courts worldwide.
"There's a real concern with Facebook that if an order of this kind is made it may resonate in other jurisdictions," he said.
"If only a tiny percentage of Facebook users sought similar (orders) the burden on Facebook would increase exponentially."
The judge listed the full action against Facebook for a hearing in January.