Loyalist supergrass Neil Hyde escapes jail term as PPS drop case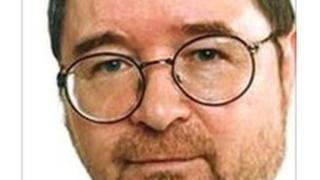 Former loyalist supergrass Neil Hyde, who received a reduced sentence for his part in the killing of journalist Martin O'Hagan, no longer faces the prospect of having to go back to jail.
The Public Prosecution Service (PPS) has decided to offer no further evidence in his case.
It has also withdrawn an application to have his case referred back to the original sentencing court.
Mr O'Hagan, a Sunday World journalist, was shot dead in County Armagh in 2001.
The PPS had referred Hyde's case back to court amid allegations that he did not tell the "full truth" in his dealings with the authorities, as part of his agreement to entering into an "assisting offender" programme.
It is understood had the PPS succeeded with their application, it would have been the first time in the UK that a case of this type had been referred back to court.
The 33-year-old LVF (Loyalist Volunteer Force) man was originally told by Judge Patrick Lynch QC, when jailing him in February last year, that if he had not agreed to identify the alleged culprits in Mr O'Hagan's murder, and give evidence about the activities of the outlawed LVF, he would have been jailed for 18 years.
He also told Hyde, that having been recruited into the LVF in 1996: "By virtue of your size and propensity for violence, it appears that you were useful to the organisation as an enforcer and embarked on a career of sustained criminality over the next 15 years."
The court also heard that Hyde had signed a contract under the Serious Organised Crime and Police Act (SOCPA) to become an "assisting offender" in return for a reduced sentence for the 48 LVF-linked offences to which he has already pleaded guilty.
Hyde's lawyer at the time said his client had "crossed the Rubicon" by co-operating with police and put himself and his family in danger for life, and that his decision was the clearest possible indication of his remorse and his determination to turn his back on his previous life.