Property developers Michael and John Taggart drop legal aid bid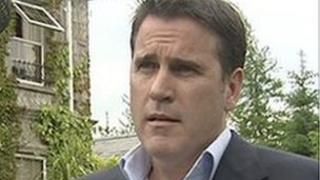 Former housing developers Michael and John Taggart are no longer seeking legal aid for their multi-million pound legal battle with the Ulster Bank.
In September the brothers told the Belfast High Court it was no longer financially possible to keep paying barristers and solicitors and they would apply for legal aid.
On Friday the court heard that the application would not now be made.
It is understood the Taggarts would not have met the eligibility criteria.
They continue to be represented by the solicitor Peter Madden.
Michael Taggart said that if they were unable to afford a barrister then he would argue the case himself.
The brothers are suing the bank for alleged negligence and improper conduct they claim contributed to the collapse of the Taggart Group in 2008.
Writs
The firm was one of Northern Ireland's largest house-builders, with operations in England and the Republic of Ireland.
But it collapsed during the property crash in 2008, costing creditors hundreds of millions of pounds.
In a counter-claim, Ulster Bank has lodged writs for £5m and 4.3m euros (£3.6m) it claims the brothers owe in personal guarantees.
The case is now scheduled for a full hearing to begin on 13 January and is expected to last for three weeks.