Joe Brolly hits out at GAA republican club name critics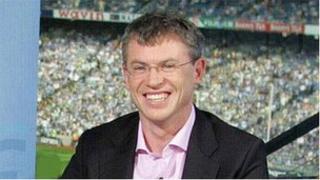 GAA TV commentator Joe Brolly has said it is "nobody else's business" if GAA clubs or tournaments are named after dead republican paramilitaries.
Unionist politicians say the practice glorifies terrorism.
Mr Brolly said he was "proud" that a hurling club in his home town Dungiven was named after the INLA hunger striker Kevin Lynch, who was a club member.
"It's nobody else's business - it's as simple as that. People can either like it or lump it," he said.
"That's the way societies and communities work. Kevin played hurling for Dungiven and for Derry, and the hurling club was named for that reason. We're very proud of him."
The former Derry player was speaking after some unionists, including TUV leader Jim Allister, renewed criticism of the GAA following an appearance by First Minister Peter Robinson on Thursday at a Co-Operation Ireland dinner, organised to acknowledge the efforts of the GAA to forge better community relations.
Mr Brolly said concern about GAA club names was "just a sideshow" and it was "important" that Mr Robinson had attended the event.
"The GAA is working furiously at cross-community relations, as far as that's possible," he said.
"He's gone as far as he can go - he had to say the stuff about not being particularly content about clubs like Kevin Lynch's.
"The most important thing about last night's event was that he was there."
Mr Robinson paid tribute to the GAA in his speech on Thursday.
"In the last few years Co-Operation Ireland has celebrated the role of rugby and football in peace-building and it is fitting that tonight we very publicly acknowledge the important role of the GAA.
"It is a testament to the progress that we have all made that tonight we can acknowledge the GAA's role in peace-building by inviting a first minister from the unionist tradition to the lectern.
"Not so many years ago it would have been unimaginable that I would have been invited to speak at an event of this kind - or that I would have accepted.
"Thankfully the world has moved on. We are all on a journey. Although I think we each recognise that there is still some distance to travel.
"For my part I want to see my party reaching out further in the years to come and I am certain that the GAA leadership will want to do the same."