Nelson McCausland letter to Glentoran 'misleading'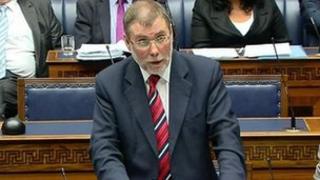 A minister's letter to a football club about a £10m grant made "misleading" claims, according to a senior official.
Nelson McCausland wrote the letter in 2011, apparently at the request of First Minister Peter Robinson.
Noting that an IFA proposal included plans for £10m for Glentoran, the then sports minister said money was agreed by the Executive and "secure".
Documents obtained under freedom of information show that senior civil servants disagreed.
Letter and related documents
[978kb]
The officials were supported by Mr McCausland's successor as sports minister, Carál Ní Chuilín of Sinn Féin, who said the funding commitment could not be upheld.
In January 2011, Mr Robinson was involved in the financial rescue of the club by a mystery benefactor.
According to documents, three months later he asked Mr McCausland to write to the club's chairman Terence Brannigan.
The letter, sent in April 2011, stated that "the IFA proposal included plans for a £10m grant to Glentoran FC for stadium development, subject to a viable business case".
Mr McCausland said the executive had made budget allocations based on the IFA proposal. He said these had been passed by the assembly and that the executive had "also agreed funding into the next budget period".
However, a senior civil servant at the Department of Culture, Arts and Leisure wrote an internal memo in May 2011 disputing a number of assertions that he described as "misleading" or "potentially misleading".
"I do not believe the executive were agreeing a specific allocation to Glentoran as they had not been asked the question," he concluded.
In October 2011, another official, the department's permanent secretary, also wrote a memo stating: "At the request of the first minister, Nelson McCausland wrote to Terence Brannigan confirming £10m funding had been earmarked for Glentoran".
The letter also said Glentoran would have the opportunity to bid for up to £4m earmarked for a national training centre.
She said: "It is the view of DCAL officials that these assertions may not be borne out so definitively by the executive decision."
Minutes of a meeting involving the current minister, Carál Ní Chuilín, record her stating reasons why the executive would not have been in a position to be more specific about the allocation of funds.
"Consequently," she concluded, "any commitments of funding given in advance of the policy development could not be upheld."
She confirmed this in a statement to the BBC: "A strategy for the development of local soccer is being pursued.
"A range of research and business cases will be developed in due course, including an assessment of facilities by the IFA. These will help to inform DCAL's decisions on budget bids during the next Comprehensive Spending Review."
"DCAL is neither bound by, nor committed to, any notional or specific award of funding to any club's development plans at this stage."
A DUP spokesman said: "The letter that Nelson sent was stating a number of facts. How people interpreted the letter is a matter for them to explain.
"Details of the funding packages for the sports bodies were negotiated by ministers and a paper submitted to the executive alongside a detailed discussion held at an executive meeting. The civil servants, to whom you refer, were not present at the executive meeting or during discussions between ministers."