Three visitors to Maghaberry prison held in drugs probe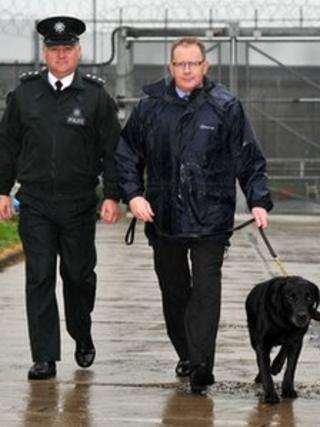 Three visitors to a high-security prison have been arrested.
They are being questioned about the smuggling of drugs into Maghaberry prison near Lisburn, County Antrim. The three were arrested on Thursday.
It comes as prison staff and police began a joint education and enforcement programme to reduce the amount of drugs getting into the jail.
Extra police resources are being put in place, and prosecutions will be brought for all seizures during the operation.
High-risk prisoners will be targeted during visits and intelligence-led searches will be increased.
Maghaberry Prison Governor Pat Maguire said: "This is also about education and support - educating prisoners on the dangers of drugs abuse and offering alternative healthcare provision to those prisoners who have become dependent on drugs.
"With better education of staff and prisoners, and partnership working with the PSNI to increase intelligence-led searching, we are determined that the supply and misuse of drugs within the prison will be disrupted.
"However, where prisoners fail to avail of the educational and health support programmes available and instead choose to break the law, a dedicated PSNI resource will be on site to investigate."
Chief Inspector Darrin Jones said: "This is a unique opportunity for the prison service, the police service and other partners to work together in a concerted effort to reduce the supply and demand for drugs within Maghaberry."