Stone 'found in Natasha McShane's throat' after Chicago assault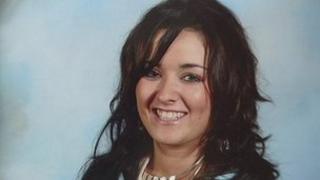 A stone was discovered lodged in County Armagh student Natasha McShane's throat following a random street assault in Chicago, a court has heard.
Ms McShane's injuries were so serious that a brain surgeon was immediately told of her admission to hospital.
Heriberto Viramontes is accused of the attempted murder of Ms McShane and her friend Stacy Jurich in April 2010.
Ms McShane has been left with extensive brain injuries after being hit with a baseball bat.
She has also struggled with her speech and mobility.
The Cook County Criminal Court in Chicago heard evidence on Thursday from the trauma surgeon on duty in the emergency room of Illinois Masonic Hospital when Ms McShane and Ms Jurich were first admitted.
'A lot of blood'
Trauma surgeon Dr Marius Katilius said Ms McShane suffered a traumatic brain injury, with blood discovered both inside and outside the skull.
Three separate lacerations were discovered. There was blood in her hair, and on her scalp and face.
There was "a lot of blood", Dr Katelius said.
But he also revealed that following a scan "an opaque structure in the back of the throat" was identified.
The medical team "pulled out a stone from the back of the throat".
The friends were attacked under a viaduct as they walked home together after a night out in Chicago three and a half years ago.
Ms McShane, from Silverbridge in County Armagh, was a 23-year-old student attending the University of Illinois at the time of the assault.
She had been on an exchange programme, studying urban planning.
Her family watched intently as items of her clothing found at the crime scene were pulled from a brown paper evidence bag at the trial.
Images of the scene, with Ms McShane's cream-coloured jacket entwined in an olive green sweater beside pools of blood, were also shown in court.
A police evidence technician was giving testimony on what she found at the scene.
Later, images of Mr Viramontes at a petrol station were shown. Prosecutors allege he tried to use Stacy Jurich's credit card at the station less than half an hour after the two young women were attacked.
The trial earlier heard evidence from Ms Jurich, who also suffered serious injuries in the attack.
In testimony, Ms Jurich described the moment she was hit.
"I heard my head being hit and I felt an excruciating pain and sort of lost my equilibrium," she told the court.
"Stupid bitch," her attacker whispered as he snatched her purse and ran off.
Severely disabled
Ms Jurich said she never saw a face as all her attention was directed towards her friend.
"She was not moving on the ground. The blood started coming out of her head," she said.
Mr Viramontes, 34, is charged with two counts of attempted murder and 23 other charges linked to his alleged involvement in the attack on 23 April 2010.
Apart from Ms Jurich, the trial has also heard testimony from Sheila McShane, Natasha McShane's mother.
She described how her daughter remains severely disabled, unable to walk without support, incapable of conversation and barely able to communicate.
The jury saw video footage of Ms McShane as she was helped to walk and of her struggling to pick up and drink from a cup of tea.
The state's key witness, Marcy Cruz, has pleaded guilty to attempted murder for her role in the attack.
The trial of Mr Viramontes is expected to last up to two weeks.