IRA man Paul Norney jailed for drunken attack on wife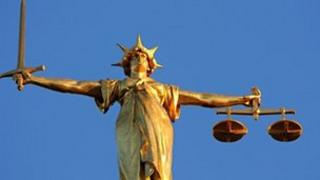 A convicted IRA man who attacked his wife in a drunken rage on Christmas Day has been jailed for 20 months.
Belfast Crown Court also heard that 55-year-old Paul Norney set fire to his wife's car three days later.
Judge Gordon Kerr told Norney his behaviour had been "quite appalling" and warned him that such behaviour "simply cannot be tolerated".
Norney spent 20 years in an English jail for trying to kill a police officer.
The court had earlier heard that on Christmas Day afternoon last year, a drunken "aggressive" Norney had gone to the St James Place home of his wife, Sinn Fein councillor Briege Brownlee, where the pair had an argument in the kitchen.
A prosecution lawyer said Norney "shouted" into his wife's face, pushed her across the table and that when she took the phone from the wall, he grabbed it from her and threw it against the wall while "shouting abuse".
The lawyer said access to their children, who witnessed the incident, seemed to be the reason for the argument.
Having smashed the phone Norney left but tried to kick the door in after it had been closed, and the prosecution lawyer said that Ms Brownlee took out a non-molestation order against her husband.
Three days later, however, Norney came back to her home and "flew into a rage". He tried to kick the door in again when she told him about the court order and refused to let him in.
Previous convictions
Mr Steer said Norney shouted "this is it, I'm burning the house down". Shortly afterwards, Ms Brownlee "realised that her car was on fire".
The blaze was extinguished by the Fire Service but the rear seat was extensively burned and the rest of the car "suffered significant smoke damage".
Police arrested a "sobbing" Norney at his sister's house nearby and although he refused to answer police questions during interview, he "appeared to become upset and emotional".
Norney, whose address was given as c/o Maghaberry prison, later pleaded guilty to common assault, arson, making a threat to damage property, criminal damage and two charges of attempting to cause criminal damage.
The offences were aggravated, submitted the prosecution, because Norney had two previous convictions for domestic violence against his wife.
A defence lawyer said that despite the wrongs done to her, Ms Brownlee had been "supportive and helpful" to Norney, visiting him in jail while he was on remand.
"Through me he would like to thank her for that," said the lawyer, who added that Norney had a "long-standing problem" with alcohol addiction, stemming from when he spent years in an isolation cell in jail.
Judge Kerr said he was "ignoring" those offences as they were not relevant, but warned Norney that if he did not address his alcoholism "you will be caught in a cycle of offending".