Health Minister Edwin Poots 'listening to wrong people'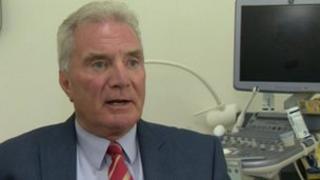 A leading doctor has said Health Minister Edwin Poots is listening to the "wrong people".
Prof Jim Dornan said if Mr Poots wants to stop going from "crisis to crisis" he should listen to "the right people".
The minister has come under pressure over new abortion guidelines and his refusal to allow gay men in Northern Ireland to give blood.
But Prof Dornan, a leading obstetrician, does not blame the minister, but rather his advisers.
He told The View on BBC One: "If he comes out and says 'I just decided that myself' (the gay blood decision) then that would be wrong and I would say he's incorrect.
"But I don't believe he did. I believe that within his group around him he had people that told him it was wrong and he listened to them, but maybe he's listening to the wrong people.
'Brave decisions'
"It would be the same as the abortion guidelines - he should speak to the right people.
"I'm actually not blaming him. I think he's a very hard-working man. I like what he's doing about taking major decisions. About closing units that aren't efficient and for redesignating units for the waiting list initiative. I believe he's done extremely well.
"He's taken very brave decisions but I don't know whether he's always getting the right advice from those who are around him. And if I found myself in trouble as much as he does that's what I would be questioning.
"It depends what way he would like to be remembered. I mean, if he wants to be remembered as a man who goes from crisis to crisis then carry on, but if he actually wants to be remembered for all the great things that he has done and the good work that he has done then he should really stop and think 'am I surrounding myself with the right people. Am I always getting the right advice and am I using it in the best way possible?'.
"Maybe we all need to occasionally think 'am I letting my personal, cultural, whatever, views interfere with the way I'm thinking?'."