Fifty NI schools to get £106m building boost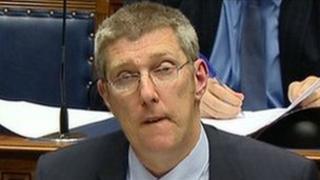 Fifty schools in Northern Ireland will benefit from a capital investment scheme that could be worth up to £106m.
The money, from the School Enhancement Programme (SEP), will fund refurbishment and extension projects.
The value of the individual projects range from £500,000 to £4m.
Examples of projects paid for by SEP include permanent buildings to replace mobiles, refurbishment of existing accommodation and the provision of sports facilities.
Education Minister John O'Dowd said: "Last year I signalled my intention to establish a School Enhancement Programme. The purpose of this programme was to ensure that we provide the best possible education estate for our children and young people, within the budget available.
"The SEP is designed to enable the refurbishment or extension of existing schools and I am pleased to announce today that 50 schools have been informed that their applications have been successful and will be advanced to planning.
"This represents a potential investment in the estate of £106m over the next two to three years."
He added: "The successful projects are all consistent with the emerging area plans and the scale of the investment underlines my continuing commitment to improving the schools estate.
"Today's announcement is good news for the pupils, staff and school communities involved, as well as being a welcome boost for the local construction industry."
The successful schools are: Belfast Royal Academy; St Malachy's College, Belfast; Maine Integrated Primary School, Randalstown; St Patrick's Grammar School, Armagh; Our Lady's Grammar School, Newry; New-Bridge Integrated College, Dungannon; Friends School, Lisburn; Acorn Integrated Primary School, Carrickfergus; Dalriada School, Ballymoney; Millennium Integrated Primary School, Saintfield.
St Michael's College, Enniskillen; Belfast High School; Sullivan Upper School, Holywood; St Louis Grammar School, Ballymena; Mount Lourdes Grammar School, Enniskillen; Ballyclare Secondary School; Ballymoney High School; Erne Integrated College, Enniskillen; St Columb's College, Londonderry; Malone Integrated College, Belfast.
Rainey Endowed School, Magherafelt; Ceara Special School, Lurgan; Donard Special School, Banbridge; Rathore Special School, Newry; The Armstrong Primary School, Armagh; Millington Primary School, Portadown; Victoria College, Belfast; St Joseph's Grammar School, Donaghmore; Methodist College, Belfast; Knockevin Special School, Downpatrick.
Sacred Heart Grammar School, Newry; St Aidan's/St Bernadette's Primary Schools, Belfast; De la Salle College, Belfast; Broadbridge Primary School, Londonderry; Anahorish Primary School, Toomebridge; St Bernard's Primary School, Newtownabbey; St Joseph's Primary School, Newcastle; Killean Primary School, Newry; St Killian's College, Ballymena; St Mark's High School, Warrenpoint.
Coleraine Academical Institution; Willow Bridge Primary School, Enniskillen; New Buildings Primary School, Londonderry; Slemish College, Ballymena; Strandtown Primary School, Belfast; St Mary's Grammar School, Magherafelt; Wallace High School, Lisburn; Integrated College Dungannon; Ulidia Integrated College, Carrickfergus; Loreto Grammar School, Omagh.