Richard Haass to have Downing Street meeting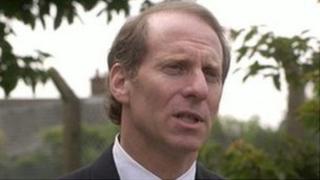 A former US diplomat chairing Northern Ireland inter-party talks on parades, flags and the past is to meet government officials in Downing Street.
Dr Richard Haass began inter-party talks in Belfast last month in an attempt to find a political consensus on these controversial issues.
The meeting in London is being described as routine.
The former US envoy is to resume discussions with the parties in Northern Ireland later this month.
He has set himself a deadline of Christmas to bring forward a series of proposals.
Meanwhile, the Orange Order has invited Mr Haass to visit two places where restrictions have been placed on parades.
The Grand Master of the Grand Orange Lodge of Ireland Edward Stevenson has encouraged Mr Haass, to talk to members at Twaddell Avenue in north Belfast and at Drumcree in Portadown, County Armagh.
At both locations, regular protests have been held over the banning of parades during the month of July.
Mr Stevenson said it was absolutely essential that Dr Haass heard the concerns of members who are "continuing to be denied their civil and religious liberties".
He added: "As the three Ligoniel lodges approach 100 days of peaceful protest and Portadown district maintain their longstanding weekly presence at Drumcree, it is imperative the Haass initiative aids a fair and equitable resolution to these matters."