John O'Dowd extends schools funding consultation after glitch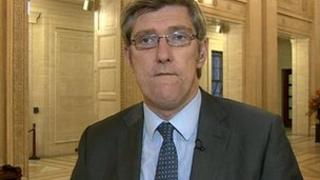 A computer glitch has forced the Department of Education to extend the consultation period for its controversial plan to restructure the allocation of school funds.
The 16-week consultation has been extended by another week. The deadline is now 17:00 BST on 25 October 2013.
A number of parents and teachers complained about the computer problem.
It affected anyone trying to respond to the funding proposals by completing an online form on the department website.
Michael Keenan, principal of St Anne's Primary School, Finaghy, south Belfast, was among those who complained to the department about the glitch.
Announcing the extension of the consultation period, Education Minister John O'Dowd said: "It was brought to our attention yesterday that there was a technical issue with one question on the online response form.
"It was immediately investigated and it quickly became clear that a problem had occurred which affected the recording of yes/no answers when consultees using the online facility answered the question relating to the proposal not to change the funding arrangements for special units attached to mainstream schools."
He added: "I am therefore extending the consultation period until 5pm on Friday 25 October 2013.
"I would encourage anyone with an interest to put forward their views, including any alternative proposals for how we ensure schools can support pupils from disadvantaged backgrounds.
"I want to ensure we always put pupils first, including in the allocation of funding, and I believe that the level of interest shown in this consultation shows the passion many in our community feel about this important issue."
Around 80% of primary schools are facing cuts to their budgets due to the planned redistribution of funding, aimed at giving more support to pupils in socially-deprived areas.
The 16-week consultation period has so far received more than 6,000 responses.