DUP's Ruth Patterson back in court over Facebook charge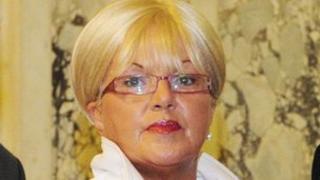 Belfast City Councillor Ruth Patterson has reappeared in court on a charge of sending an electronic message on Facebook that was grossly offensive.
It relates to comments by the DUP politician about an imaginary attack on a republican parade in Castlederg.
In court in Belfast, her lawyer questioned bail restrictions preventing her from attending political rallies.
A PSNI officer said police objected to her presence at parades or protests as she had a high profile in public life.
Mrs Patterson's solicitor also asked why she was still refused access to her council-supplied i-Pad and phone which, he said, were essential for constituency business.
The detective told the court that the items were still being trawled in England as part of an ongoing investigation.
The district judge said she did not see the justification for preventing Mrs Patterson, who is 57 years old, from attending legal parades.
However, while the council agreed to supply her with another i-Pad and phone, Mrs Patterson is not allowed to use these on social media websites.
The case was adjourned until 21 November.