National Trust 'concerned' over Giant's Causeway pub plan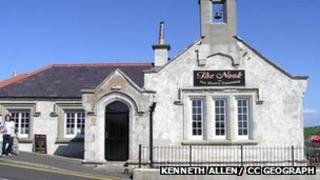 The National Trust has submitted a "letter of concern" to the Planning Service over proposals to expand a pub close to the Giant's Causeway.
Portnaboe Ltd, which owns The Nook pub, has applied to add 10 guest bedrooms in two new buildings.
Portnaboe is controlled by the Portballintrae-based Sweeney family.
They said the plans were "modest" and would have no impact on the landscape quality or setting of the causeway World Heritage Site.
However the trust, which owns the causeway, said Portnaboe's application contained no evidence that the setting of the World Heritage Site would be unaffected.
The trust has told the planners that it believes a detailed landscape and visual impact assessment is required to give "a full understanding of the potential impact".
In a letter, it said that "particular consideration should be given to the critical views to and from the site, including principal views from the Bushmills approach".
The letter said that it was also "looking into the matter of land ownership" at the site and is "continuing to review the design of the scheme".
Controversial
The letter does not amount to an objection, but is rather a call for more information.
The planning file also contains a response from the historic buildings unit of the NI Environment Agency (NIEA) advising that planning permission for the development should be refused.
The Nook is a listed former schoolhouse that was built in the 1850s and the NIEA said the plan would mean "further incremental erosion of the setting of the listed building".
It added that "the approach towards this critical section of the Causeway Coast cannot absorb any further visual intrusion".
The Giant's Causeway is Northern Ireland's only world heritage site and, as such, any development in the area tends to be controversial.
In 2001, the trust objected to the extension and conversion of The Nook when it was first transformed into a pub.
Earlier this year, the trust lost a legal attempt to block construction of a £100m golf resort and hotel near the causeway at Runkerry.