Northern Ireland bathing water quality at best recorded level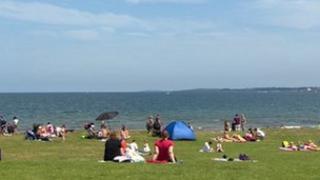 The quality of the bathing water around Northern Ireland has been recorded as the best it has ever been since monitoring began in 1994.
All 23 identified areas of bathing along the coast passed with either a good or excellent quality of water.
The standards have been set by the EC Bathing Water Directive.
It primarily monitors the level of faecal matter pollution in our water, either from humans or animals. Of the 23 sites, 20 registered as excellent.
The biggest success was in Newcastle in County Down where the water quality went from poor to excellent.
This has been attributed by the Department of Environment to a multi-million pound investment in the sewage network in the town by Northern Ireland Water.
Five others - Portballintrae, Waterfoot, Carnlough, Ballygawley and Crawfordsburn - also registered better water quality, rising from good to excellent.
Two beaches, however, fell from excellent to good - Castlerock and Ballycastle.
"This is brilliant news for bathers," Environment Minister, Mark H Durkan said.
"Northern Ireland's beaches are some of the finest in Europe and one of our best assets. It is fantastic to see our beaches performing so well on water quality."
"There is still no room for complacency though. We continue to work closely with our partners and will investigate any bathing water sample failure as a priority incident."
Changing standards
Fewer beaches, however, are expected to reach the excellent standard when new criteria is introduced by the EU in 2015.
"The new standards are twice as tight as they are now," Claire Vincent, marine biologist at the DOE, said.
"Approximately half of our existing excellent rated bathing spots will meet the new standard of excellence.
"Most EU member states will struggle to meet that mark. We are hoping to reach good or excellent for all bathing spots."
Early figures suggest that if the new criteria were applied today, none of Northern Ireland's beaches would fail, but the number of excellent rated spots would drop from 20 to 12 and one, Ballyholme in County Down, would fall from good to poor.
Blue flag beaches
The stricter criteria has already been applied in the awarding of Blue Flags beaches in Northern Ireland. As a result, the number has fallen by about half to six - Magilligan, Portstewart Strand, Portrush West, Whiterocks, Tyrella Beach and Murlough Beach.
In addition to sewage treatment and bathing water quality, criteria for obtaining a Blue Flag on a European level includes other areas of environmental management, such as waste management and coastal planning and protection.
"This does not mean that water quality will be worse, just that the standards are much higher," Ms Vincent said.
It is also now a a statutory requirement that beaches display bathing water quality on, at least, a weekly basis.