Belfast-built Churchill tank being restored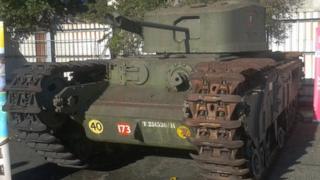 A piece of Northern Ireland's wartime military history is to get a new lease of life as renovation work gets under way on a Belfast-built Churchill Mark VII tank.
Details of the scheme were announced at a ceremony at the North Irish Horse base at Dunmore Park Army reserves centre in Belfast.
Once the restoration work is completed, the tank will be put on public view in Carrickfergus Marine Gardens.
The restoration work will involve keen amateurs, Army reservists, experts from the Railway Preservation Society of Ireland and young people from the Hydebank young offenders' centre.
Harland and Wolff
Churchill tanks were a mainstay of the British Army.
The tanks were refined and redesigned several times until the Mark VII was finalised and became one of the most effective armoured fighting vehicles used by the allies during World War II.
Churchill tanks were designed and produced by Belfast's Harland and Wolff.
During the Blitz, the frequent attempts to bomb the shipyards and docks led to the creation of new safer locations to continue manufacturing the tanks and one of these locations was on the Woodburn Road in Carrickfergus.
The restoration of the tank will link in with research on the industrial and military heritage of Carrickfergus and the heritage of the North Irish Horse who used the Churchill tanks during the war.
Most of the funding comes through a grant award of £58,000 from the Heritage Lottery Fund.
Paul Mullan, head of Heritage Lottery Fund NI, said: "The Heritage Lottery Fund was delighted to support this project focused on telling a unique part our military and industrial heritage story.
"The Churchill tank is a symbol of a rich and diverse heritage as many of NI's large manufacturing industries played a key role in the World Wars from building planes, ships and tanks through to munitions and even ropeworks."