David Cameron meets NI talks chairman Richard Haass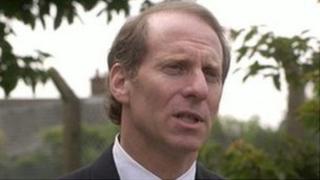 Prime Minister David Cameron has held a brief meeting with Northern Ireland talks chairman, Richard Haass.
The prime minister dropped in on a meeting the US diplomat was holding with Downing Street and Northern Ireland Office officials in Downing Street.
It was to update them on the progress made by his cross party working group.
Mr Cameron expressed his support for Dr Haass's work.
Dr Haass, a former US diplomat, is chairing Northern Ireland inter-party talks on parades, flags and the past.
He began talks in Belfast last month in an attempt to find a political consensus on these controversial issues.
The meeting in London had been described as routine.
The former US envoy is to resume discussions with the parties in Northern Ireland later this month.
He has set himself a deadline of Christmas to bring forward a series of proposals.